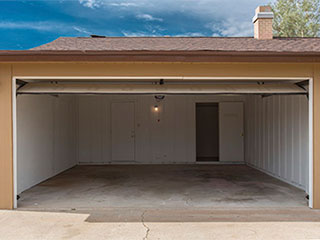 Whether your garage door has been acting up recently, or it's been working like a charm since the beginning, learning about some common problems you could potentially face can help you tell when it's time to contact our Garage Door Repair Peoria experts. Here are the four most common malfunctions you might encounter:
Door Won't Open or Close With the Remote

There are a plethora of reasons why this might happen, so it's hard to diagnose the issue without close inspection. Make sure the antenna on your garage door isn't blocked by any obstacles that could disrupt the signal. You should also try using the remote closer to the door, even just a few feet can make a difference. Lastly, check the batteries. Because they tend to last for a very long time, people often forget that they occasionally do need replacing. If your remote still doesn't work, it might need to be replaced.

Door Opens Again After Closing

This problem is usually due to the door's opening and closing limits, and it can happen to both old and new models. Consult your user manual to find out how to adjust these limits to their optimal values. There will most likely be a small knob or screw on the motor that you can use to fine tune according to your needs. Be sure to contact us if you're not sure of what to do, or if the problem persists.

Door Creaks When in Use

First of all, no, your garage door isn't supposed to be making loud noises! Most people think this comes with the territory of having an older model but really it just means that your rollers are (quite literally) screaming for some lubrication. Before applying the lubricant, remove any dirt that might've accumulated. Well-lubricated rollers can also prevent many other common malfunctions.

Door Closes Really Fast

This is a problem which requires contacting our Garage Door Repair Peoria experts. Torn cables or broken springs might be responsible, both of which are extremely dangerous to handle without professional training. Contact our team today for any related need.