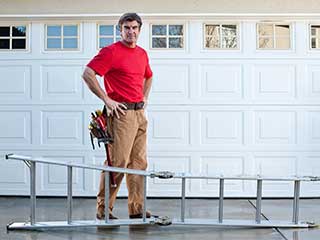 Maintenance is a critical aspect of keeping your garage door functional. We take your safety and satisfaction very seriously, which is why we offer the following types of services to all of our Peoria, AZ customers.
Spring Replacement
Whether you are using a torsion or an extension spring, our specialists can help you out. Close inspection for damages, along with proper lubrication and tension adjustment will help to ensure their flawless operation.
Opener Repair and Replacement
You may need to replace your entire garage door opener in the rare case where it becomes too damaged or otherwise non-functional. But generally, you'll only need to have a few parts replaced or repaired to ensure its solid operation.
Panel Replacement
It's not necessary to replace an entire door just because one panel is damaged or missing. Our service technician can install a new matching panel that will match your door perfectly.
Roller Replacement
Sometimes a roller ceases to perform properly. You can tell if one of these components needs replacing if your door is consistently losing alignment, experiences excessive vibrations or if you begin to hear new noises that weren't present after its initial installation.
Cable Replacement
Over time, cables become worn-out due to the nature of their action, which is traveling over pulleys or winding through spools or cable drums. Sometimes, you will notice these galvanized wires becoming frayed before total breakage occurs. When you notice cable damage, the sooner you have a professional deal with them the better off you'll be.
If you need to install a new door or opener, our professional Garage Door Repair Peoria team can help you. If you're looking for a new garage door, our experts can help you choose the model that will best suit your individual needs.
Need more? We also provide:
Liftmaster Garage Door Maintenance
Belt Drive Garage Door Openers
Garage Door Extension Spring Replacement
Overhead Door Installation