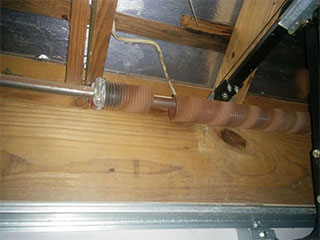 Garage doors are heavy pieces of machinery, and although they might not look it, they require a lot of force to get off the ground. That's where the spring comes in. Without a working one (or more than one in some cases), your system wouldn't be able to function. These components harness energy from either being stretched or twisted when the door lowers, and then use that energy to raise the door back up.
What Are The Differences?
For a while, extension springs were the most common type. They create the energy needed to pull the door up by stretching out to their limit when it closes. The tension from this builds up force, which then then gets used to open the door.
Torsion springs, on the other hand, twist up tightly to achieve tension, instead of stretching out.
So, Why Should You Switch?
If your system uses extension springs, you may wonder why changing the way it produces the force required to open the door really matters. There are a few reasons that torsion is now the preferred type, longevity and safety being the main ones. Our experts claim that these types of springs lasts longer because the action of twisting up is less strenuous than stretching out. Daily use will wear down any component over time, but extending to their limit every day can make the extension type become liable to break more quickly. What's even worse, the way it will break can be very dangerous. Due to being pulled out, when it snaps it'll go flying, with enough force to shatter windshields, among other things. The torsion type, on the other hand, will break apart but stay in place when it does. There are other reasons as well, such as torsion springs requiring less parts in order to work, which means less components will wear down and need to be replaced.
Will It Be Worth It?
This depends on entirely on you. If your family uses their garage door frequently, it'd be a good idea to consider upgrading to a torsion spring. It'll last you longer, will require less repairs over the years, and most importantly, it'll be much safer!
Be sure to give us a call for any other garage door related need you may have.