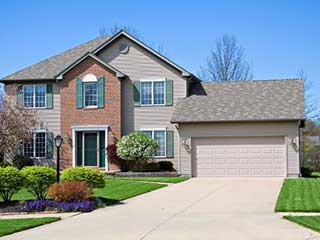 At Garage Door Repair Peoria, we take pride in offering professional services at a reasonable price. We know how difficult it can be for the average person to deal with a defective system, which is why our highly experienced professionals operate under the highest possible standards and always make sure to meet every customer's satisfaction.
Here are a few examples of the many different services we can offer:
Opener Repair and Replacement
The opener is an integral part of your garage door. Therefore, it requires any maintenance and repair to be performed by a meticulous pair of hands. Our technicians will inspect, adjust, lubricate and even replace your opener if it fails to live up to its potential.
Professional Spring Replacement
Our expert technicians are more than capable of handling both extension and torsion type springs. Such a procedure should never be attempted by an inexperienced person, as there are certain important guidelines that must be followed to avoid the inherent dangers involved in dealing with such components. Instead of risking yourself or your property, just give our team a call.
A Wide Range of New Garage Doors to Choose From
Sometimes, repairing a door is simply not enough, and you need to have it replaced altogether. If you're worried about finding the right product that best suits your home, you can put your nerves at ease by consulting our technicians. Our company has a large selection of garage doors to choose from, each with its own different benefits. All of our doors are of the highest quality and adhere to the strictest possible standards as far as safety and longevity are concerned.
Professional Assistance is Just a Phone Call Away
Our biggest asset is our constant professionalism. You will not come across a better replacement or maintenance service in all of Arizona. If you are looking to get a reliable repair work done or any of our different types of garage door related services, call us today and have our specialists handle it in no time.
The Best Service Provider Around:
Top Quality Replacement Parts